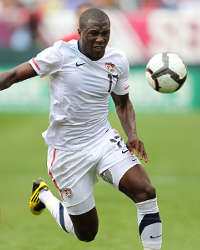 One month from tomorrow the United States will be taking on Argentina at the New Meadowlands Stadium. With all the shuffling in and out of yanks abroad, who makes the roster for the two-match international fixture dates (the US plays Paraguay three days later in Nashville). With an eye looking towards the 2011 CONCACAF Gold Cup, here is a likely 20-man roster for the matches:
GK: Tim Howard, Brad Guzan
DF: Steve Cherundolo, Eric Lichaj, Oguchi Onyewu, Clarence Goodson, Tim Ream, Carlos Bocanegra, Zach Loyd
MD: Landon Donovan, Alejandro Bedoya, Michael Bradley, Jermaine Jones, Stuart Holden, Maurice Edu, Sacha Kljestan
FW: Clint Dempsey, Jozy Altidore, Edson Buddle, Juan Agudelo
At this point, this is a very primitive roster, as I'm not really used to having to leave off guys who I think deserve a fair shake in these friendlies.
At goalkeeper, its the usual suspects Howard and Guzan, who've both nailed down starting jobs at their respective clubs. The pair will likely split the fixtures, with Howard likely to take on Argentina, and Guzan to step up against Paraguay
For the defender positions, this will be the opportunity for young guys like Lichaj, Ream, and Loyd to prove that they belong with the seniors. Look for Cherundolo-Onyewu-Goodson-Bocanegra to start off against Argentina, then work in the other three.
In midfield, its the continuing conundrum of who to start, as the US will have four highly capable starters, for my money, I'd like to see a Holden-Edu pairing at least once, however, that's a bit unlikely because all four could/should be consistent starters for their clubs by then and then it becomes anyone's guess.
Up top, It could be Dempsey, who is having his best EPL season yet, or it could be Jozy, who has finally found a starting job at Bursaspor. Buddle and Agudelo get the back up roles.
What do you guys think? Ninety Plus will be in Nashville to watch the US take on Paraguay and we're very excited. Coming a bit later, we take a look at the major players for the US' march to the Gold Cup finals.